GIVE THE GIFT OF LIVE ENTERTAINMENT
Whether it be award-winning Broadway, hilarious comedians or can't miss concerts, there is something for everyone at the Paramount Theatre and RiverEdge Park. Give the gift of live entertainment to that special someone with a gift card that can be used on tickets, Broadway merchandise and drinks. Gift cards can be purchased in any denomination listed below and never expire. If you would like a custom amount, please call the box office at 630-896-6666.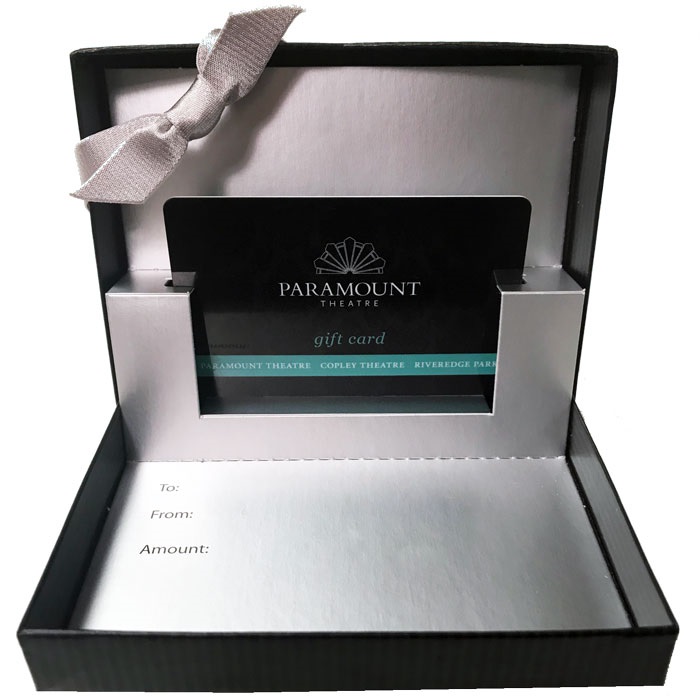 HOW MUCH DO I GET?
Here are some scenarios to help you out!*
• 1 Broadway ticket, a Broadway merchandise item and a few drinks: $100
• 2 Broadway tickets and a couple drinks: $150
• 1 Broadway subscription and a drink at each show: $150
• 2 Broadway subscriptions and a couple drinks at each show: $300
*These scenarios are approximate and differ depending on the show.
THE RULES:
Gift Cards cannot be used to purchase touring artist merchandise at both Paramount Theatre and RiverEdge Park. The only merchandise that can be purchased with a gift card is Broadway and RiverEdge Park specific merchandise. Gift cards cannot be used for valet parking.
MAIL OR PICK-UP:
Please choose either mail or pickup on the delivery details page during checkout. If you choose mail, please make sure your shipping address is correct on the billing info page at checkout. For pickup, you will receive an email when your gift card is ready for pickup at 23 E Galena Blvd in Aurora (approximately two business days).
TO REDEEM:
When purchasing tickets with a gift card, please call 630-896-6666 or visit the box office at 23 E Galena Blvd in Aurora. To use at the bar or on merchandise, simply give the gift card to the staff member at time of purchase.